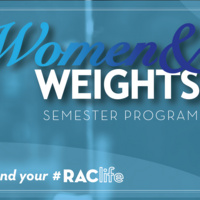 Women and Weights
Join us each week as we discuss the benefits of resistance training and equip you with the knowledge and skills you need to reach your goals and exceed your own expectations! Find your place at Women & Weights!
Each session is led by two nationally certified Personal Trainers that will provide exercise instruction and motivation. Any Georgia Southern female student or Faculty/Staff that is a member of the RAC is eligible to participate. No registration is required however each class is limited to the first 20 participants. All participants must wear proper fitness attire to participate.
Women & Weights runs every Monday and Wednesday at 8:30pm - 9:30pm from January 8 - March 7.
Wednesday, March 7 at 8:30pm to 9:30pm
Recreation Activity Center, Conditioning Room 2687 Akins Blvd
Event Type

Departments

Website
Hashtag

Subscribe