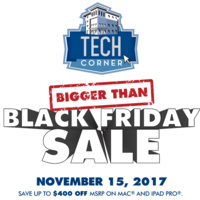 Tech Corner 'Bigger than Black Friday' Apple Sale
One day only! Skip the Black Friday lines and chaos; this deal is bigger and better. Save up to $400 off MSRP on Mac & iPad Pro* on November 15 at Tech Corner! Plus, get a free service coupon ($100 value) with each purchase of a Mac or iPad Pro, and get 20% off non-Apple brand accessories. Call 912.478.7744 to preorder! Sale applies to specialty orders as well.
*Must have valid Eagle Card to receive discount.
Wednesday, November 15, 2017 at 8:00am to 5:00pm
Tech Corner 98 Georgia Avenue