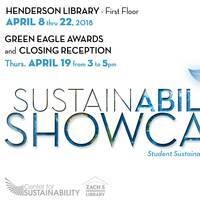 Sustainability Showcase
This exhibit highlights the 13 projects that were funded by Student Sustainability Fees this year. In FY 2018, Student Sustainability Fees provided $230,297.19 in grant funds ranging from $3,000 to $39,238.45 per project.
Funds were allocated to four academic departments and four additional campus units. Topics ranged from food waste, to tree planting, to tree identification, to LED lighting upgrades, to bicycle parking and much more.
These projects have helped Georgia Southern to:
Reduce energy use
Reduce waste
Conserve water
Reduce and offset carbon emissions
Reduce food waste
Increase awareness of biodiversity
This exhibit is brought to you by the Center for Sustainability and the Zach Henderson Library and is a No Impact Week event.
Sunday, April 22
Zach Henderson Library, 1st floor Exhibit Space
Event Type

Campus
Hashtag

Subscribe