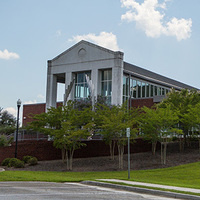 Student Directed One Acts: Courting 101
Jan. 18 & 19
Student Directed One Acts
7:30 PM
Black Box Theatre
Free Admisson
Senior Francesca Foster directs Courting 101 by Yuri Baranovsky.
Courting 101 -- a class designed to unravel the timeless mysteries of romance and dating, from the complicated actions of women to the not-so-complicated reactions of men -- all with live-action examples!
Senior Andrew Shepherd directs Gruesome Playground Injuries by Rajiv Joseph
Gruesome Playground Injuries is a blood-spattered twig of a play from the up-and-coming dramatist Rajiv Joseph — recalls that time in the 1960s when Hollywood was in thrall to what publicists liked to call "a different kind of love story." It follows the decades-spanning relationship of two made-for-each-other masochists who, between them, manage to slice, bloody, bruise and/or mutilate most parts of the human anatomy.
For Adult Audiences
The theatre program at Georgia Southern is the longest continuous performance troupe in Georgia. The award winning Theatre Program at invites our audience's to share in a dynamic production season that includes contemporary and classical comedies, dramas, and musicals, that challenge, entertain and celebrate diversity. The Bachelor of Arts in Theatre at Georgia Southern University is a comprehensive degree program for actors, directors, designers and researchers.

The Center for Art and Theatre houses the Black Box Theatre and is our primary performance venue on the Statesboro Campus. Located just off Forrest Drive, parking is available in lot 41 after 4pm.
Saturday, January 19 at 7:30pm
Black Box Theatre (Statesboro Campus)
493 I.T. Dr., Statesboro, GA 30458
Event Type

Campus

Colleges

Departments