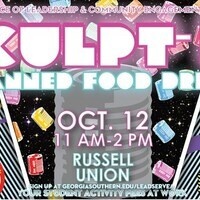 Sculpt It for the Food Bank
Sign up here to participate in Sculpt-It!
The event is Thursday, October 12th from 11am to 2pm in the Russell Union Commons. Student organizations bring canned goods/non-perishable items and create sculptures related to the Homecoming theme in support of the Statesboro Food Bank; they also compete with other organizations to win spirit points! All canned items will then be donated to the Statesboro Food Bank. Only one registration per team is required. Contact Leader@GeorgiaSouthern.edu if you need any additional information.
Thursday, October 12, 2017 at 11:00am to 2:00pm
Russell Union Commons