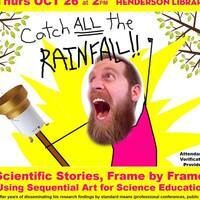 Scientific Stories, Frame By Frame: Using Sequential Art for Science Education
John Van Stan is a faculty member in the Department of Geology & Geography at Georgia Southern University who investigates how forests interact with water. After years of disseminating his research findings by standard means (professional conferences, public outreach workshops, etc), Dr. Van Stan began to look for more efficient ways to connect his work to public interest. This link was found in sequential art.
Join Dr. Van Stan as he takes us through the amazing process of creating a Graphic Novel to teach and outreach beyond the scientific community. View other Graphic Stories/Comics that also tackle tough and timely topics. Explore the benefits of the graphic format in comparison to more traditional methods of story telling.
Thursday, October 26, 2017 at 2:00pm to 3:00pm
Zach S. Henderson Library, 2nd Floor - near browsing
Event Type

Colleges

Website
Hashtag

Subscribe