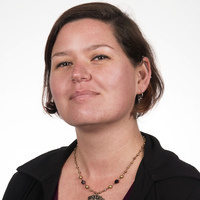 Robert I. Strozier Faculty Lecture Series: Professor Bridget Conn
On Friday, Jan. 26, Photography Professor Bridget Conn will present a lecture, "Kodachrome Rumors: Why Outdated Technologies Thrive in the Art World." She will discuss how technologies evolve from commercial tools into the methods with which artists make work. Conn holds a MFA with concentrations in photography, mixed media and installation from the University of Georgia and a BFA in studio art from Tulane University.
This semester, Georgia Southern's College of Arts and Humanities will continue the Robert I. Strozier Lecture Series on the Armstrong Campus in Savannah in honor of the former Professor Emeritus of English who was a beloved figure for more than four decades. The annual event features Armstrong Campus faculty members who present their research on a variety of topics.
All lectures will take place at the Ogeechee Theatre in the Student Union on the Armstrong Campus from noon-1 p.m. and are free and open to the public.
Friday, January 26 at 12:00pm to 1:00pm
Ogeeche Theatre