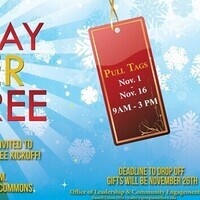 Pull Tags from the Holiday Helper Tree!
The Holiday Helper Tree is a Georgia Southern tradition, and this year we are celebrating 25 years of giving back to the local community! Each November, the event kicks-off with the lighting of the tree, and students, faculty, and staff pull tags off of it. Each tag represents someone in our community who needs a gift, and may not receive anything without our help. In honor of our 25th anniversary, we are adding gold tags that represent an act of service you can do to help a local organization.
There are three ways to get involved with the Holiday Helper Tree!
1. You can get involved by pulling a tag from the tree! You can pull as many tags as you would like, or your organization can choose to adopt one of the families on the tree.
2. You can also help by volunteering to staff the tree: Volunteers are needed to check out the tags being pulled. The office is looking for volunteers to work this table when the tree is open. Volunteers can sign up at the front desk in the office.
3. Another way to participate is to donate directly to one of our partners agencies to help with any tags that are not claimed. Stop by the office to be connected with one of our partner agencies.
Thursday, November 8, 2018 at 9:00am to 3:00pm
Russell Union Stage