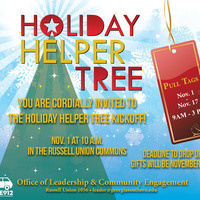 Pull Tags for the Holiday Helper Tree!
You're invited to be a part of Georgia Southern's 24th annual Holiday Helper Tree!
More than 800 individuals and 17 community organizations are represented this year. This is a great opportunity to Serve912 this holiday season!
You can can get involved by…
Giving a Gift: Pull a tag from the tree! Each tag has a gift wish from a member of our local community. There are both individuals and families from numerous local organizations. You can pull as many tags as you would like, or your organization can choose to adopt one of the families on the tree.

Volunteering at the Tree: Volunteers are needed to check out the tags being pulled from the Holiday Helper Tree. The office is looking for volunteers to work this table from 9:00 a.m. – 3:00 p.m., when the tree is open. Volunteers can sign up here!

Donating funds for unpulled tags: Another way to participate is to donate directly to one of our partners agencies to help with any tags that are not claimed. Stop by the office to be connected with one of our partner agencies.

If you have questions about the event, or a desire to get involved, please contact the Office of Leadership and Community Engagement at (912) 478-1435 or leader@georgiasouthern.edu.
Friday, November 17, 2017 at 9:00am to 3:00pm
Russell Union Stage
Event Type

Departments

Website