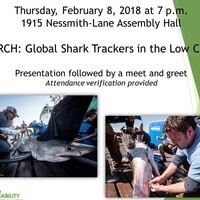 OCEARCH: Global Shark Trackers in the Low Country
Georgia Southern's Center for Sustainability invites you to a presentation about the OCEARCH North Atlantic White Shark Research Expedition, given by the expedition's lead investigators. Georgia Southern's own Dr. Christine Bedore, biology professor and expedition scientist with OCEARCH, has worked with the organization for the past year to study white shark visual ecology.
OCEARCH is a recognized world leader in generating critical scientific data related to tracking (telemetry) and biological studies of keystone marine species such as great white and tiger sharks, in conjunction with conservation outreach and education at a measurable global scale.
In a collaborative environment established by Founding Chairman and Expedition Leader Chris Fischer, OCEARCH shares real-time data through OCEARCH's Global Shark Tracker, inspires current and future generations of explorers, scientists, and stewards of the ocean, and enables leading researchers and institutions to generate previously unattainable data. OCEARCH has completed 28 expeditions, worldwide. For more information about OCEARCH and to see a real-time map of the animals they are tracking, visit www.ocearch.org/.
Attendance verification will be provided for students who need it.
For more information, visit georgiasouthern.edu/sustainability or contact the Center for Sustainability at cfs@GeorgiaSouthern.edu or (912) 478-5895. This presentation is made possible by Student Sustainability Fees.
Student Sustainability Fees at Work!
Thursday, February 8 at 7:00pm
Nessmith-Lane Conference Center (Statesboro Campus), 1915
847 Plant Dr., Statesboro, GA 30458
Event Type

Campus

Colleges

Tags