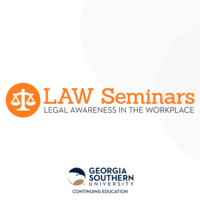 Law 125: Discrimination & Hostile Work Environment – What You Need to Know
One of the Legal Awareness in the Workplace seminars, this 1.5-hour program helps participants understand why and how discrimination and harassment claims occur in even the best of firms. Learn what qualifies as discrimination, who can be charged with harassment, and how best to reduce the likelihood of these charges in the workplace.
Participants learn how to address a hostile work environment
Participants gain a better understanding on the types discrimination in the workplace
**Seminars offer SHRM for Certified Professional Units (CPUs) for Certified Professionals and Senior Certified Professionals.
Date: November 14, 2017
Time: 6:00 – 7:30 p.m.
Location: Hunter Maclean Office, Brunswick, GA
Cost: $59
Corporate Rate: $55 (4 or more when you register and pay before 11/8/17)
Registration Deadline: 11/8/17
Tuesday, November 14, 2017 at 6:00pm to 7:30pm
Hunter Maclean Office, Brunswick, GA
Event Type

Departments

Website