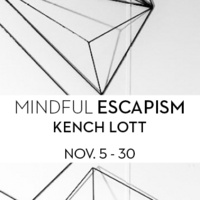 Kench Lott: Mindful Escapism
Reception: Friday, November 30, 5 - 7 p.m.
Working intuitively with such basic materials as hollow steel piping and solid steel rods, Kench Lott creates visual paradoxes in order to generate a mindful form of escapism. Lott's intent with these works is to divert the viewer's attention away from the distractions of society by challenging their understanding of space and depth.
Friday, November 30, 2018 at 9:00am to 7:00pm
Center for Art & Theatre (Statesboro Campus), University Gallery
493 I.T. Dr., Statesboro, GA 30458
Event Type

Campus

Colleges

Departments

Website
Hashtag

Subscribe