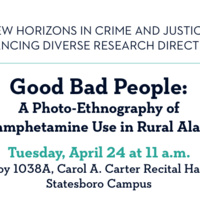 Good Bad People: A Photo-Ethnography of Methamphetamine Use in Rural Alabama
NEW HORIZONS IN CRIME AND JUSTICE: ADVANCING DIVERSE RESEARCH DIRECTIONS
Good Bad People: A Photo-Ethnography of Methamphetamine Use in Rural Alabama
Tuesday, April 24 at 11 a.m.
Foy 1038A, Carol A. Carter Recital Hall
Statesboro Campus
The recent rise in the use of methamphetamine (meth) across the United States has led to increased "cultural anxiety" about the drug and those who consume it. The general narrative of meth use, which highlights the destruction of meth use on people's lives, has been heavily influenced by popular television programs and pervasive anti-meth campaigns. However, the lives of people who use drugs are more complex than this. Using data from a two-year photo-ethnography I provide a considered, contextualized portrait of those who live in rural poverty and struggle with meth use. Using traditional ethnographic methods (interviews, observation) and photographs (traditional documentary and portrait photographs, alongside images from family albums, social media pages, and texts) of 52 participants from rural North Alabama, I document how those who use meth construct personal narratives, social identities, and symbolic boundaries to gain a sense of agency amidst diminished social status and tumultuous familial and romantic relationships.
DR. HEITH COPES Heith Copes is a professor in the Department of Criminal Justice at the University of Alabama at Birmingham. His primary research agenda uses qualitative methods to examine criminal decision-making and narrative identity. He has published over 80 refereed journal articles in journals such as British Journal of Criminology, Criminology, European Journal of Criminology, Justice Quarterly, and Social Problems. He has been a visiting scholar and speaker at universities across the United States and Europe, including the University of South Wales, Aalborg University, University of Oslo, and the Centre for Alcohol and Drug Research at Aarhus University. In 2014, he received the Outstanding Educator Award from the Southern Criminal Justice Association. He also received the 2017 Ireland Award for Scholarly Distinction from the University of Alabama at Birmingham. The recent rise in the use of methamphetamine (meth) across the United States has led to increased "cultural anxiety" about the drug and those who consume it. The general narrative of meth use, which highlights the destruction of meth use on people's lives, has been heavily influenced by popular television programs and pervasive anti-meth campaigns. However, the lives of people who use drugs are more complex than this. Using data from a two-year photo-ethnography I provide a considered, contextualized portrait of those who live in rural poverty and struggle with meth use. Using traditional ethnographic methods (interviews, observation) and photographs (traditional documentary and portrait photographs, alongside images from family albums, social media pages, and texts) of 52 participants from rural North Alabama, I document how those who use meth construct personal narratives, social identities, and symbolic boundaries to gain a sense of agency amidst diminished social status and tumultuous familial and romantic relationships. NEW HORIZONS IN CRIME AND JUSTICE: ADVANCING DIVERSE RESEARCH DIRECTIONS Good Bad People: A Photo-Ethnography of Methamphetamine Use in Rural Alabama Tuesday, April 24 at 11 a.m. Foy 1038A, Carol A. Carter Recital Hall Statesboro Campus
FUNDING PROVIDED BY THE CAMPUS LIFE ENRICHMENT COMMITTEE (CLEC), DEPARTMENT OF CRIMINAL JUSTICE AND CRIMINOLOGY, DEPARTMENT OF PSYCHOLOGY, AND DEPARTMENT OF HISTORY
Tuesday, April 24, 2018 at 11:00am
Foy Building (Statesboro Campus), Carol A. Carter Recital Hall
84 Georgia Ave., Statesboro, GA 30458
Event Type

Campus

Colleges