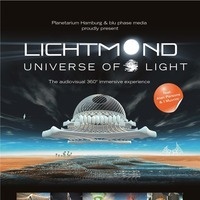 Georgia Southern Planetarium Presents "Lichtmond"
Thursday, Jan. 25 at 6, 7, & 8 p.m.

Friday, Jan. 26 at 6, 7, & 8 p.m.

*Middle school and older*

Lichtmond is a poetic journey through magic sounds and landscapes of a visionary parallel universe, on a world you may call "Earth 2," which is orbited by two suns. As Earth 2 is untouched by mankind, we are immersed in a world full of hovering trees, strange species of flying fish, bubble-like volcanos, surreal sculptures and other impressive objects. This amazing musical audiovisual trip is wellness for the senses and features award winning music by Lichtmond featuring Alan Parsons, I Muvrini and Boy George (as co-writer).

How to Reserve Tickets
1. Click on the provided link (Facebook) or "Reserve Tickets Here" (Planetarium Website).
2. When tickets are available click "Register."
3. Select available show time and number of tickets.
4. Fill out Registration with your Name and Email.
5. Submit. You will receive an email from Eventbrite that you have reserved tickets.

Tickets will be available in the Planetarium Lobby the day of the event. Reserved tickets can only be picked up 30 minutes before the reserved ticket's time.
Friday, January 26 at 6:00pm to 9:00pm
Georgia Southern Planetarium, Math/Physics 2000