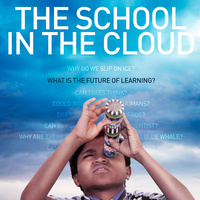 Free screening of "The School in the Cloud" followed by Q&A
On Wednesday, March 27, Georgia Southern University College of Education (COE) will host a free screening of "The School in the Cloud," a documentary following a three year experiment installing internet kiosks in remote villages in West Bengal to a school in north east England to enable children to self-organize their learning. The screening, which is free and open to the public, will begin at 6 p.m. in the Ogeechee Theatre located in the Student Union on the Armstrong Campus in Savannah.
Following the screening, the College will host a question and answer session with expert panelists discussing the movie themes.
About "The School in the Cloud":
In 1999, Sugata Mitra's pioneering "Hole in the Wall" experiments helped bring the potential of self-organized learning to the public's attention. Research since then has continued to support his startling conclusion that groups of children, with access to the Internet, can learn almost anything by themselves.
From the slums of India and villages of Cambodia, to schools in Chile, Argentina, Uruguay, the USA and United Kingdom, Professor Mitra's experimental results offer an intriguing new future for learning: a future in which 'knowing' may be obsolete.
His innovative and bold efforts towards advancing learning for children all over the world earned him the first ever $1m TED Prize award. At the 2013 TED conference, Sugata asked the global TED community to make his dream a reality by helping him build the ultimate School in the Cloud where children, no matter how rich or poor, can engage and connect with information and mentoring online.
In December 2013, the first School in the Cloud lab — located inside a high school in Killingworth, England — opened its doors to students. Seven more labs have since been opened as part of his wish; five in India, one more in the UK and in New York, USA. The labs aim to provide an environment where a global community of educators can observe the impact of self-organized learning on children from a wide range of educational backgrounds.
More information about Self Organized Learning Environments (SOLE) or "The School in the Cloud": https://www.theschoolinthecloud.org/blogpost/3671/
Wednesday, March 27 at 6:00pm to 9:00pm
Student Union (Armstrong Campus), Ogeechee Theatre
11935 Abercorn Street, Savannah, GA 31419
Campus

Colleges
Hashtag

Subscribe