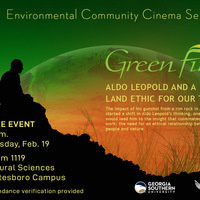 Environmental Community Cinema: Green Fire
Georgia Southern's Center for Sustainability invites you to a film screening of Green Fire. The impact of his gunshot from a rim rock in Arizona started a shift in Aldo Leopold's thinking, one that would lead him to the insight that culminated his life's work: the need for an ethical relationship between people and nature.
The film describes the formation and evolution of Leopold's idea, exploring how it changed one man and later permeated all arenas of conservation. By presenting examples of the deep impact of his thinking on current conservation projects around the world, the film challenges viewers to contemplate their own relationship with the natural world.
Tuesday, February 19 at 7:00pm
Natural Sciences Building (Statesboro Campus), 1119
69 Georgia Ave., Statesboro, GA 30458
Event Type

Campus

Website