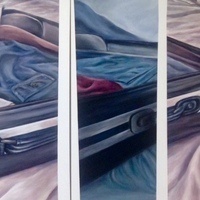 Cyndy Epps: Considering Perspectives
March 8-23
Reception: Friday, March 23, 5-7 p.m.
University Gallery, Center for Art & Theatre
Considering Perspectives explores the ideas of perspective, in how our vantage point and presuppositions affect how we feel about certain spaces. The subjects of the paintings are spaces or things that are often overlooked or considered mundane. By splicing together multiple perspectives the viewer is asked to consider that there may be more than one way not only to view but to feel about the subject.
Friday, March 23
Center for Art & Theatre, University Gallery 233 Pittman Drive
Event Type

Campus

Colleges

Departments

Website
Hashtag

Subscribe