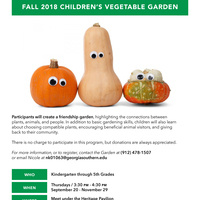 Children's Vegetable Garden at the Botanic Garden
Participants will create a friendship garden, highlighting the connections between plants, animals and people. In addition to basic gardening skills, children will also learn about choosing compatible plants, encouraging beneficial animal visitors, and giving back to their community.
There is no charge to participate in this program, but donations are always appreciated.
For more information, or to register, contact the Garden
at (912) 478-1507
or email Nicole at nk01063@georgiasouthern.edu
Thursday, November 29, 2018 at 3:30pm to 4:30pm
Botanic Garden (Statesboro Campus), Meet at the Heritage Pavilion
1501-1599 Bland Ave, Statesboro, GA 30458, USA
Event Type

Campus

Departments

Website