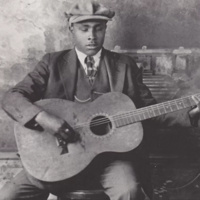 Blind Willie McTell: A Statesboro Legacy
This exhibition features information and research on the local history of Statesboro, local legend Blind Willie McTell, his impact on early rhythm and blues music, and his connection to the community. It was curated by graduate student, Megan Winters, who is pursuing a certificate in Public History.
This is a companion exhibition which features information to better contextualize the student work of the senior Capstone course to benefit otherwise uninformed patrons of the gallery who are unfamiliar with the course or the community.
Friday, July 6, 2018 at 8:00am to 5:00pm
Center for Art & Theatre, University Gallery 233 Pittman Drive
Event Type

Campus

Colleges

Departments