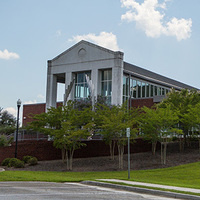 Amen Corner
AMEN CORNER
Nov. 7 to Nov. 14
By James Baldwin
Margaret Alexander, a single mother and pastor must face the consequences as a revealed truth that may strip her of everything, forces her to reevaluate the role of religion and family as her son stands on the brink of manhood and must choose his own path.
The theatre program at Georgia Southern is the longest continuous performance troupe in Georgia. The award winning Theatre Program at invites our audience's to share in a dynamic production season that includes contemporary and classical comedies, dramas, and musicals, that challenge, entertain and celebrate diversity. The Bachelor of Arts in Theatre at Georgia Southern University is a comprehensive degree program for actors, directors, designers and researchers.
The Center for Art and Theatre houses the Black Box Theatre and is our primary performance venue on the Statesboro Campus. Located just off Forrest Drive, parking is available in lot 41 after 4pm.
Curtain for all performances is at 7:30 PM and at 2pm for Sunday Matinees. (please note there will not be a performance scheduled on Sunday April 21.) Monday nights during the run are dark.
Tickets are $12 for General Admission, Faculty and Staff and $6 for Students, Seniors and Members of the Military.
The Box Office is located in the Center for Art and Theatre. You can call 912-478-5379 for reservations or buy tickets on line at Georgia Southern University Marketplace. (https://touchnet.georgiasouthern.edu/C20795_ustores/web/classic/store_cat.jsp?STOREID=63&CATID=389&SINGLESTORE=true) link to marketplace
Wednesday, November 14, 2018 at 7:30pm
Black Box Theatre (Statesboro Campus)
493 I.T. Dr., Statesboro, GA 30458
Event Type

Campus

Colleges

Departments