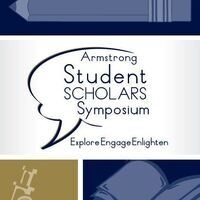 24th Annual Student Scholars Symposium
Whether it's turning a ceramic vase or synthesizing chemical compounds, students are working side by side with faculty making valuable contributions to their fields of expertise. The Symposium provides a venue for the campus and the community to come together to celebrate these accomplishments and to recognize the outstanding scholarly achievements made by our students.
Keynote: "Mapping Opportunities in Undergraduate Research" by Dr. Anastasia Lin, Wednesday, April 18, 10:30-11:30 AM, Ogeechee Theater
Poster and oral presentations throughout both days on the 2nd Floor of the Armstrong Student Union.
Thursday, April 19
Armstrong Student Union, 2nd Floor 11935 Abercorn St.